The Descriptive Album of London
I happened to be at an auction in 2011 at which five bound volumes of photographs were for sale, dating from the 1890s. I bought them.
One of them was—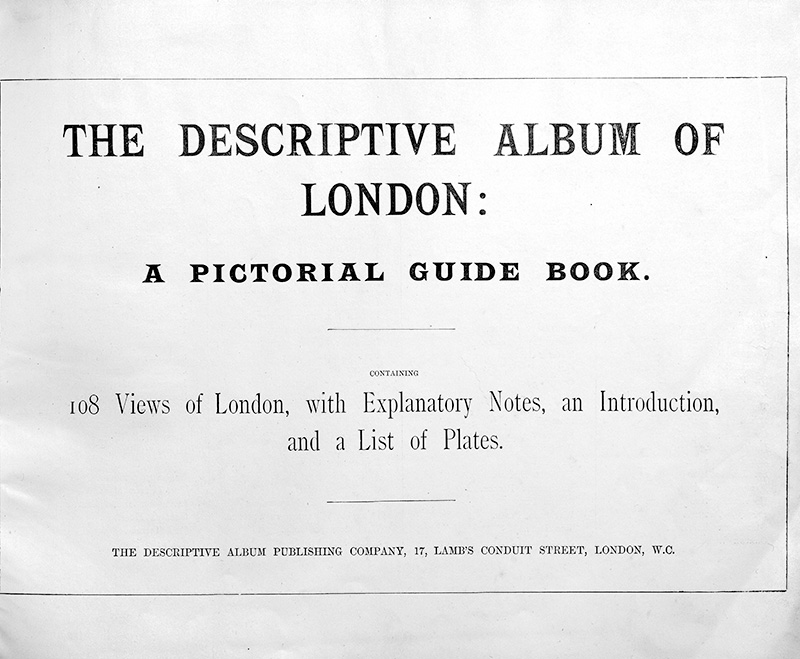 The author was George H. Birch (1842 to 1904). It was originally published in monthly parts, and then as a bound volume in perhaps 1894. It has two pictures of Tower Bridge which was opened in July 1894, so cannot be earlier than that. Neither the date nor the author are mentioned. George Birch was the director of the Soane Museum from 1894 until his death in 1904.
The book is 336mm wide and 270mm high which is quite large (a bit under A3). Mine is in green board covers, but a variety of designs were used. You can read Birch's Introduction here.
The important thing about this book is that on each page there is a large, clear black and white photograph of somewhere in London, together with a short textual description. The photos are reproduced using the usual halftoning technique but, because of their size, considerable detail can still be seen.
You can see the order in which the photos occur in the book here, but it seems more useful to list them below alphabetically. I am gradually digitising them, and those that have links you can click on to see the relevant page.
Admiralty Office
Albert Pall
Army and Navy Club
Athenæum Club
Battersea Park
Blackfriars Bridge
Brompton Oratory
Buckingham Palace
Burlington House
Carlton Club
Charing Cross Gardens
Chelsea Hospital
Cheyne Walk
Christ's Hospital
City Temple
Coaching Meet
Colonial Office
Conservative Club
Custom House
Drapers' Hall
Duke of Wellington's Statue
Finsbury Park
Fountain Court, Temple
Goldsmiths' Hall
Greenwich Hospital
Hon. Artillery Company's Barracks
Houses of Parliament
Kensington Gardens
Kensington Palace
Lambeth Palace
Leicester Square
Liverpool Street Station
Marble Arch
Metropolitan Meat Market
National Gallery
National Liberal Club
Natural History Museum
Northumberland Avenue
Old Roman Wall
People's Palace
Post Office
Queen's Hall
Record Office
Reform Club
Regent Street
Regent's Park
Royal Observatory, Greenwich
Serpentine
South Kensington Museum
St. Bartholomew's Hospital
St. James's Palace
St. John's Gate
Staple Inn
Statue of Lord Beaconsfield
Statue of Queen, Kensington Gdns
Strand
Temple Church
The Guildhall
The Mint
Tower Bridge
Trinity House
United Service Club
United Service Institute
University College
War Office
Waterloo Bridge
Waterloo Place
Westminster Bridge
Wine Vaults, London Docks
Zoological Gardens
You can contact me using the email address below (which you won't see unless you have Javascript enabled)
Peter Facey, Winchester, England
20170113 updated 20110130 originated