William Urquhart Dykes in Royal Flying Corps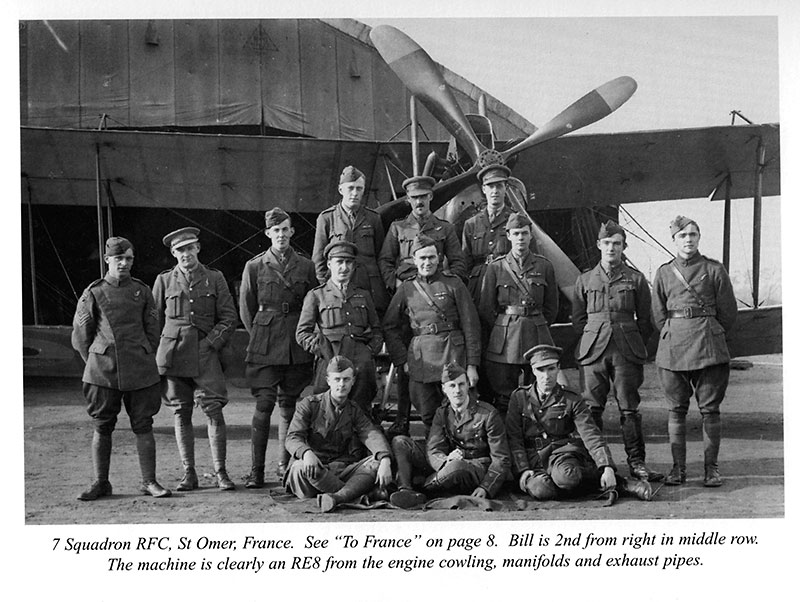 As noted here William Urquhart Dykes is one of the people who signed the back page of Peter Wilson's diary in about 1928 when it had been published. Dykes was in No.7 Squadron RFC up to 23rd December 1917, when he was made a flight commander "and to be temporary Captain while so employed". He transferred to No.9 Squadron. Both squadrons were at that time at Proven aerodrome in Belgium, No.7 at Proven East, and No.9 at Proven West.
Dykes was born on 4th September 1897 and his home address was in Hamilton, Lanarkshire. He was injured in March 1918 and prevented from flying for a month. According to Air Force records, he was transferred from 106 squadron to 105 squadron on 25th April 1918 (no mention of 7 squadron). Dykes was appointed as a Captain in November 1918.
It seems that Dykes may have been a bit of a dare devil because after the war he was heavily involved in the then highly dangerous sport of motor racing. He was a skilled mechanic and had large garages at his houses in Ealing Common and later in Cobham, Surrey. He raced as an amateur in his own car with Alvis factory support. His exploits are recorded in the book "FAST WOMEN The drivers who changed the face of motor racing" published in 2002 by John Bullock. He and his wife Ruth (née Hegarty) raced their Alvis 12/50 between 1924 and 1929. He can be seen at Brooklands in 1929 with Ruth here. He held the 12-hour record at Brooklands and the 200 miles speed record. He also entered the 1928 and 1929 Le Mans races in an Alvis 12/75 and can be seen here. He came second in class at Le Mans in 1928.
In 1978 Dykes wrote a 67-page book entitled "Reminiscences, 1917-1919 reminiscences of a pilot flying with the Royal Flying Corps over the Ypres Salient (R.E.8s) in 1917 and with the Royal Air Force in 1918 in what is now the Irish Republic (R.E.8s and Bristol fighters)". This was eventually published in 1999 by the firm of patent agents Urquhart-Dykes & Lord (a firm founded by Dykes after WWI and still in existence today). A copy of this book is in the Imperial War Museum here. See picture above of Dykes in 1917 at St. Omer taken from Reminiscences.
Dykes had no children.
A web site made by Philip B. Archer, who used to work at Urquhart-Dykes & Lord, has further information about Dykes. Specifically some Urquhart-Dykes & Lord history and a photo of Bill at his Golden Anniversary dinner in 1977.
Credits
I was emailed in September 2012 by Gerry Deignan who wrote—
"I am looking for information on the aviator W.U Dykes. (The U is not certain, it could be an N or M)...On 18-10-1918 an airman dropped a letter (in a weighted bag that looked like a sash) in the lawn of Mrs. Freestone in Castlebar, County Mayo, Ireland. I am just trying to find out whether it may have been the Mr. Dykes you mention".
At that stage I knew nothing about Dykes except his signature in the diary. Deignan then unearthed the information above, with the help of his son in law, Joost Muller, who inquired on an Open University forum. An air archive search was done by Steve Mayer whose wife compared Dykes' autograph on the dropped letter to the signature in Peter Wilson's diary. Janet Dyke sent the link to the FAST WOMEN book.
Meanwhile, I re-read Peter wilson's diary but failed to find any reference to Dykes in it. But I did find the following entry in the diary for May 5th 1918—
"When flying with Wattie over Wattau, I spot my old Colonel sitting in a deck chair [Wilson had previously been invalided out of the infantry]. I drop a streamer message and to my delight confirm. Several officers came out of Mess. We fly low and drop another message inviting them to dinner."
I later found one further mention of Dykes in the diary for January 22nd 1918—
"Dykes back off leave."
All this happened in the space of 48 hours. Joost Muller has since carried out much more research into Dykes and also into the details of Proven aerodrome. My thanks to all concerned.
Also thanks to Giles Quinan for further information about Dykes.
Peter Facey, Winchester, England
20151207 Added links to Philip Archer's web site
20121223 More
20120924 Originated