Old photographs or postcards by A. Emm
In the course of photographing places in Hampshire (UK) I became aware that there were quite a lot of old black and white photographs of places apparently taken by someone called "A. Emm". An internet search produced no information at all about this person.
I am therefore putting up here what I have so far found out about this. If anyone knows anything more, please let me know (see my email address at foot of this page provided you have Javascript enabled).
East Hampshire Post, 1976
An article was published on December 30th 1976 in the East Hampshire Post newspaper that throws a lot of light on the history of Emm's postcards. The reporter was David Allen.
Archibald Thomas Emm was a bachelor who lived in Petersfield and helped his mother run a china and stationery business in Lavant Street. He was a self-taught photographer and began photographing local scenery and publishing picture postcards. This activity spanned the period from around 1900 until 1928. He died in 1956.
In 1928 an assistant, Gilbert Sayers, joined the firm and Mr. Sayers took over the business after Emm's death. In 1976 Sayers was still alive and had Emm's original folding plate camera by Thornton Pickard.
Mr. Sayers is quoted as saying that Emm's postcards "were printed by Valentine & Sons of Dundee" and that so far as he was aware there was no catalogue of them. When he took over the business in 1956 there was no market for the postcards and those that remained were destroyed.
The article says that Emm was "was one of about six postcard publishers in Petersfield".
My thanks to Sara Sadler of Petersfield Museum for finding this newspaper article. See Petersfield Museum. View a scan of this newspaper article here (371Kb).
Update 20080103:
In January 2008 I received an email from the reporter, David Allen, who wrote the above newspaper article. He said "Following one of my interests during my retirement, I have just called up 'Archibald Emm' on the internet and, to my surprise, I find an article I wrote in 1976. I have maintained my interest in Emm's postcards and I now have 206 different ones. I also have copies of three others. I do not have a list of the cards Emm published. Gillie Sayer could not help me with that request, as you know. I know Emm travelled as far as Frensham (Surrey), Droxford (Hants) and Rogate (Sussex) as I have cards of these areas."
An example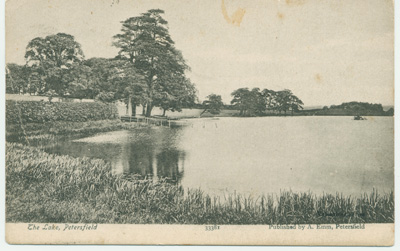 Here is one of these old postcards that I bought on eBay. It has number 33381 and the legend "Published by A. Emm, Petersfield". Above this, in the reeds it says "Valentines series". This particular one was posted in 1905.
Looking at this, you might easily assume that the number 33381 belongs to Emm, but this is not so. In fact, the postcard was made by the company James Valentine & Co of Dundee, and the number refers to Valentine rather than Emm.
The University of St. Andrews has a large archive of Valentine's photographs, and this one is number JV-33381. (My thanks to Cilla Jackson of St Andrews special collections department for this information)
It is known that Valentines commissioned photos from local photographers all over the country but, if Gilbert Sayers was right, it seems that Emm must have taken photographs himself, sent them to Valentines for printing, and then Valentines perhaps included them in their own catalogue.
The fact that this postcard has "Valentines series" printed on it, implies that Emm may have published some other postcards that did not say this.
Copyright in Emm's postcards
English copyright law is rather complicated when it comes to photographs. The UK Intellectual Property Office summarises the position here. Put simply, British photographs taken before 1945 had copyright for 50 years from the date of taking. So all such copyrights would have expired on or before the end of 1994. On this basis, all Emm's photographs would now be out of copyright.
Unfortunately, the situation is complicated by European law. If a photograph taken before 1945 was protected on 1 July 1995 by copyright in any state within the European Economic Area, then the copyright is "revived" on 1 January 1996. The revival lasts until 70 years after the photographer's death. So, if Emm's photographs were protected by copyright in some European country in 1995 (a perhaps somewhat unlikely possibility), then the copyright would be revived until 2026 and would be owned by whoever inherited the copyright from Emm. This would appear to be Gilbert Sayers, since he took over the business on Emm's death. It would be usual when taking over a business of this kind for the intellectual property rights also to be transferred.
Other information
The 1901 census shows an Archibald EMM living at 8 Lavant Street, Petersfield who was a cooper/dealer in fancy goods.
Archibald Emm is recorded as being aged 77 on his death in 1956. That would make him born in 1879, and he would have been just 25 in 1904 when the earliest postcard was posted.
A Gilbert William SAYERS died in Petersfield in Q3 1982 aged 70. He was born on 25 May 1912. This seems a good match for the Gilbert Sayers in the newspaper article. He would have been 16 when he began working for Emm in 1928. Who are his descendents?
There is a large photo in the George & Falcon pub at Warnford of the building circa 1900. Then it was called the George Hotel. Written on the photo in white hand lettering it says "Emm's series" and "Warnford", but there is no number on it. This photo is not in the Valentines catalog at St. Andrews.
Peter Facey, Winchester, England
20151113 Links updated
20130128 Links updated
20080720 Reference to David Allen's email added
20071206 Updated
20071127 Updated
20071120 Originated